The door of the TARDIS opens with a Hummmm and a shadowy figure emerges from its smoky depths.
<![if !vml]>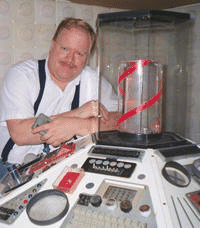 <![endif]> "The Doctor? Out on call!" sniggers the rotund fellow, tapping a smoking panel with a sonic screwdriver. "I'm just the maintenance staff. Welcome to the TARDIS! Of course, this is just the command center. You'll want to go investigating, and a few of the rooms are open today. Feel free to poke around!"
"What will you find in here? The vast array of cosmic junk that makes up our lives! If you want to learn about the REAL Star Trek Tri-D Chess or all about home arcades, visit the Yestercade off site. You can stop into the The Console Arcade to view TRON's Game Grid, our hand-built arcade machine! We may be the only family in the whole, wide world to have a 3/4-scale TARDIS Console in our basement, so be sure and take a peek at that!
"Down Research & Development we have a number of oddball projects, or you could go check out the TARDIS to travel back in time to The Dragonraid Inn to check out the game that has been called "the Christian Dungeons & Dragons." Be sure to check out one of our latetest projects,the Slide-O-Matic Table. And no homepage would be complete without a Links page. If you like what you see here, you should catch a see Andy's outdated resume.
"It's all here, or soon will be. Choose your destination, and if you get lost, just look for the "HOME" button to go to the Console Room. I'll be right here waiting for you."